If the major digital assets, bitcoin (BTC) included, can't prompt another bull market in 2020, exchange-based tokens may decline due to the possible trading volume shrinkage, says TokenInsight, a token data and rating agency.
Their latest annual report on the cryptocurrency spot exchange industry explains that the price trend of exchange-based tokens "has a synchronous relationship" with bitcoin. But also, as exchanges hold a stable profit model in the current crypto-assets industry, their tokens can go higher when there's a massive trading volume, typically with BTC's price going up as well. Hence, concludes TokenInsight, if BTC and other main altcoins cannot start a bull market in 2020, the price of exchange-based tokens may continue to be affected by the volume shrinkage.
Many exchange-based tokens had seen a positive performance in 2019, with mechanisms like token buy-back or burn pushing the price upwards. Exchange-based tokens showed a continuous upward trend in Q1 and Q2, and their prices remained relatively high even during the price decline in Q2 and Q3.
Top 10 exchange (centralized and decentralized) tokens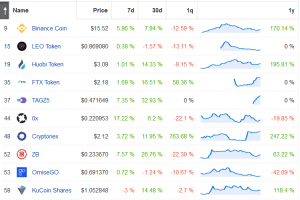 To read the entire article click here
Author: Sead Fadilpašić