Ethereum Classic, the only top 20 coin in green in a month, is now seen correcting its monthly gains ahead of the hard fork this week, which "is going smoothly" and a chain split is unlikely.
Though the price of this coin has been rising in the past month, reaching USD 7.6 on August 22, it has corrected since then. At pixel time (10:06 UTC), ETC trades c. USD 6.48 and is down by 3% in the past 24 hours, by 4% in the past week, trimming its monthly gains to 12%. The price is still 44% lower than a year ago.
ETC price chart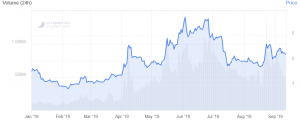 The 17th coin by total market capitalization, now standing at USD 734 million, is expected to see its hard fork on September 12 at 11:54:14 AM UTC, or at block height 8,772,000.
Watch the latest reports by Block TV.
Exchanges such as Coinbase, Poloniex, Binance, Bittrex, Kraken, Shapeshift, and OKEx are updated for support and compatibility for the Atlantis hard fork, according to Stevan Lohja, Technology Coordinator at Ethereum Classic Labs. Also, the majority of wallets and dapps (decentralized apps) are updated and ready for the hard fork, he added.
Atlantis adopts Ethereum's (ETH) the Byzantium…


To read the entire article click here
Author: Sead Fadilpašić