Bitcoin is making a steady recovery, edging above the key USD 10,000 mark after dropping into the high USD 9,000s for most of September 19.
BTC prices returned to USD 10,000 at 16:35 GMT on September 19, stabilized, and then lept from just over 10,000 to almost USD 10,300 within the space of 10 minutes at 20:05 GMT, with a marked rise in trading volumes. The token is trading at just over USD 10,276 at the time of writing.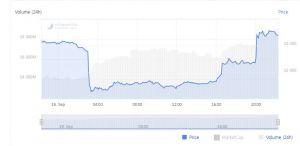 A number of altcoins experienced slow but steady growth, with Ethereum prices around the USD 220 mark – for a growth rate of just over 4%.
And it was a busy end to September 19 on Twitter, too – with much of the cryptocurrency community speculating about the identity of the "two flavors" of cryptocurrency former Overstock CEO Patrick Byrne has decided to sink his USD 90 million fortune into.
Watch the latest reports by Block TV.
The outspoken Byrne yesterday sold his stock in the company and then proceded to post on his blog, stating that he "with the capital generated by the sale of [his] stock" he would invest in "gold, silver, and two flavors of crypto."
Social media was –…


To read the entire article click here
Author: Tim Alper